The weather outside is frightful and what better way is there to add some warmth to your holiday season that a winter beer? Curl up around the fire and try one of our local, seasonal beers. The CAMRA Vancouver executive has done some delicious research for you, and have some tasty recommendations for seasonal beers to try over the holidays!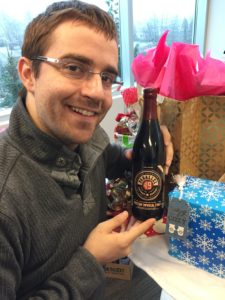 David Perry, President
Parallel 49 – Russian Imperial Stout
When I got to thinking about holiday beers, I started thinking about the spirit of the season and what it is all about. While we have a lot of spiced beers, gingerbread, vanilla, chestnut, I feel like those pale in comparison to what the holidays are all about: peace, love and sharing. I chose Parallel 49's Russian Imperial Stout as my beer for the season. It is the type of beer that is ideal for sharing with loved ones or new friends! It is a big beer, so you can share it, drink a little bit of it and still enjoy the benefits of the alcohol. It is also a fantastic beer that you can cellar, build a vertical of and bust out at your holiday party in the spirit of sharing. On top of all of these amazing holiday spirited qualities, it is in itself a delicious bold beer with oak, vanilla and chocolate to it. If you have never had one I highly suggest it. Remember you can even learn about big beers by getting tickets to our Big Beers class this month!

Kerry Dyson, Vice President

Bridge Brewing – Sleigh Booster
As you might have heard, over the top spice beers are not my seasonal favourite. As such, I am always on the lookout for a hefty holiday beer. Bridge Brewing's Sleigh Booster is an imperial red IPA. It is packed with malt flavour, a big bitterness and clocks in at 9% ABV. All told, it makes for an intense but very well balanced beer. Definitely worth a go this season.
Shawna Perry, Membership Coordinator
Raven's Brewing –  Hot Chocolate Porter
What I love about this beer is that it has straight chocolate nose. Not a heavy chocolate, such as a piece of dark chocolate (even though that's what is in the beer), and it's not mixed with other sweet scents, so you definitely know what you're about to drink!
It finishes with a dark chocolate/cocoa bitterness so if you're more of a milk chocolate person you might want to stick to something with more of a vanilla front. It has a "thick" mouthfeel, very full and covers your whole palate. While vanilla is an ingredient, it's a small part of the recipe because it's not a "vanilla bomb" like some chocolatey beers out there can be. This is all about the dark chocolate.
The bottle recommends pairing with cheesecake and I would definitely agree with that. It sounds heavenly!
Ravens Brewing Hot Chocolate Porter
ABV: 6.0%
Malts: Pale, Brown, Crystal 30, Crystal 75, Dark Munich, Chocolate, Black
Hops: Sterling, UK Fuggles
IBU: 25
Extras: Cacao Nibs, Vanilla
Kai Miller, Education Liaison
Superflux Beer Co. – Colour & Shape
Christmas season brings us a wealth of rich, dark, high-alcohol, often spiced ales. Too many, really. Take a break from the onslaught of winter seasonals with Colour & Shape, a new Northeast style IPA from Superflux Beer Company.  Superflux is the reincarnation of Machine Brewing, and Colour & Shape is the kind of juicy, tropical, and cloudy IPA that every Machine fan has on their wish list.
Renata Witozskin, Treasurer
Steel & Oak – En Blanc & En Rouge
So usually I'm all about the spice and the chocolate for my Christmas beers but Jesse tends to be less whimsical than I am. Enter barleywine! A fun happy compromise during the holiday season. These two have a bonus of showing our New West pride and being delicious. Aged in red and white barrels respectfully. Jesse likes the rouge more and I like the blanc. Conveniently meaning no fighting in this house!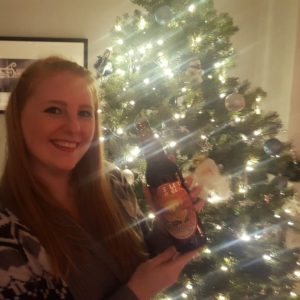 Ashleigh Begg, Communications Director
Whistler Brewing Co. – Winter Dunkel
Nothing puts me in the mood to deck the halls quite like my favourite winter flavour combination – orange and chocolate. Whistler Brewing Co's Winter Dunkel is decadently sweet and the perfect post-holiday dinner dessert bottle to share around the table. Made with 100% organic chocolate from Whistler Chocolate Company it is perfectly complimented by orange and coriander flavours.  This is the ideal beer for satiating your holiday sweet tooth!