It's time to curl up around the fire and stay out of the cold. And what better way to do that than with some of British Columbia's yummiest winter beers! Some of the CAMRA Vancouver executive have some tasty recommendations for you.
David Perry – President
Nothing says Christmas like chestnuts, right? It's even in the songs you hear all over the place at this time of year! With Whistler Brewing's Valley Trail Chestnut Ale, instead of roasted on an open fire, it's chestnuts moved in with vanilla, toffee and a caramel nose. It's interesting, because I don't usually have a sweet tooth – but when I pour a dark, rich glass of this ale I always feel jolly!
Dan Olson – Membership
Remember when you learned some of your favourite holiday beverages, like egg nog, hot chocolate or punch, were even better when alcohol was added? A similar revelation happened when I first tried a spiced hard apple cider. This wasn't the cinnamon-flavoured apple juice I drank as a kid. A great spiced cider in our neck of the woods is the Sea Cider Wassail. It comes with great candied orange, nutmeg, cinnamon, and clove flavours as well as a nice caramel sweetness. It's great cold, but if you warm it up a bit and put it in a mug, you'll be wanting to put on a toque and go door-to-door singing Christmas carols to your neighbours.
 Renata Duquemin – Treasurer
Nothing says the holidays to me like stouts and porters. Throw in a nice flavour like chocolate, vanilla or other spices and it's like Christmas in a cup! Red Arrow is a relatively new brewery with a lot to offer. Harder to find still in Vancouver, it is readily available in Victoria where I'm stuck this week.  Their Chocolate Cherry Porter lives up to its name. Let it warm up a bit and there is smooth dark chocolate and maraschino cherry. Perfect for drinking around the tree or in your hotel room.
Shawna Perry – Communications
Wandering the liquor store the other day I happened upon a different type of winter beer. Postmark Brewing's Winter Red is a departure from the typical chocolatey or heavier stouts and porters of the winter season. By using Belgian yeast, they brought out a bit of spice and subtle fruit flavours. If you're not a fan of the sweeter beers of the season, then you should definitely give this a try.
Kerry Dyson – Vice-President
The Seaport Vanilla Stout is a smooth and creamy winter stout which offers all the necessary components of a winter warmer. Big vanilla, chocolate and coffee flavours, along with a sweet, roasty malt finish. This is a beer that can be comfortably drank indoors, without having to fear the rain or snow.
Samantha Ingham – Events
Stop right now! The Induction Dubbel by Category 12 is the perfect winter ale this season. No need to spice up your life to enjoy a warming, slightly fruity ale made in the Belgian tradition. This beer features house-made dark candy syrup that adds a certain richness while still being light in body for 7.5% ABV. Sorry, wannabes, but this is a winner on my list.
Danika Strecko – Secretary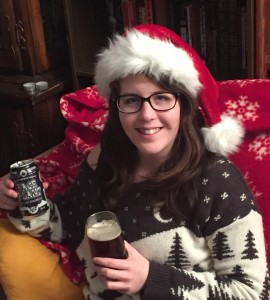 With brown sugar, molasses and a light coffee finish, Nelson Brewing Company's Faceplant Organic Winter Ale warms you up on a cold day without being heavy. Great sessionable beer for the holiday season.
Jeremy Noonan – Community Liaison
Family, warmth and lasting memories: these are the very best things about winter. Doan's Rye Stout captures this in a beautiful stout: rich, with the spiciness of a solid rye bill, all lovingly crafted in a way that makes you feel like you're a part of the Doan family. Hug this one, and dote on the memory once it's done.