I have had the chance to work with Danny in various capacities for several years now and I must say that he is truly an incredible man. Very few people in the Vancouver Craft Beer scene are as genuine, caring, intelligent and funny as Danny is. His smile is infectious and his passion for learning and for educating others is truly admirable. And let's not forget he makes incredible beer – you may have heard of a little brewery called Parallel 49 that he brews at? I took a moment to ask Danny a few questions to highlight the time he spent on our team. Here's what he had to say: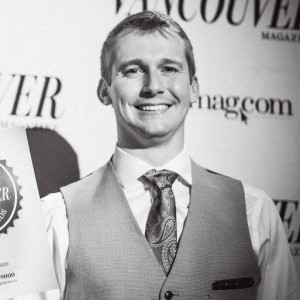 How long have you been with CAMRA for?
I've been on the executive board since 2013. I have been a member since… earlier. I'd have to check my card, but let's just say earlier.
How did you come to be a part of CAMRA?
I was introduced to CAMRA when I was really starting to get into craft beer. My roommate at the time brought me to the winter cask fest at Dix, and it blew my mind. I've met a lot of great people and learned a lot about beer over the years. The events coordinator at the time convinced me to join the Executive Team when the education position was first being created. My roommate had been the Membership Director for the 2 or 3 years prior so I knew a lot of the Exec Team already and I liked beer education so it seemed fated.

What are you most proud of in your time with CAMRA as an Executive member?
Organizing a lecture series was pretty fun and took a lot of work. I used up most of my favours with other brewers to get them to teach classes, but once they had done a class they didn't mind coming back. Us beer nerds like to teach people that are interested, especially if they are just starting to fall in love with beer. The cask stillage design I did is pretty cool too.
If you were to predict CAMRA Vancouver's future, what would you say is on the horizon for us?
CAMRA Vancouver is going to have to keep being an introduction to all that craft beer has to offer. The industry is growing wildly and ever more people are learning about it. Education about beer and the industry will be always be important. We need to enlighten them while they're young and keep them until they're old.

You are given the chance to choose one last beer in your life – what would your brew of choice be?
If it was only one beer then that would be the same as asking what would be my last beer before I die. From there it depends if hell is hot or cold. Rauchfort 10 if it is cold. Chuckanut's Kolsch if it is hot. Dupont Avril is a close second.

That last response best exemplifies Danny as a person; he always has something witty, yet thought-provoking to contribute. One thing that amazed me most about working with him is as much as he talks and jokes all the time, the moment that Danny spoke up in one of our board meetings all conversation ended, all distraction ended and everyone took in every word he said. Danny will be very missed on our team and I, along with the entire CAMRA Vancouver Community, wish him the best as he moves on to other opportunities.
Of course, as one goes out, another comes in. Danny didn't leave us with an empty void, he hand-picked a interim replacement that would take his spot until the end of our year when executive positions are up for re-election at the AGM. Kai Miller will be stepping into the Education Liaison role. Kai will function as the director of our education programs and will be present at our board meetings, but will be there in a non-voting capacity (as he was not elected by the members to his position.) Kai was the winner of the CAMRA Vancouver award for Best Beer Server in Vancouver last year, and has since taken on a role as a Brewer at 33 Acres Brewing Company. Prior to either of those things, he actually worked under Danny at Parallel 49 Brewing Company as an assistant brewer. Also, Kai is a hardcore Ottawa Senators fan like me, so I am personally very excited about that fact! In all seriousness, though, we are very excited to have Kai join the team and can't wait to see what he has to offer!
David Perry – CAMRA Vancouver President