It's been a fantastic year putting together some great events for our members, new and old.
November was an action-packed month for the CAMRA Vancouver team. We took everyone on a journey through the ages, examining the History of Beer in our November education class at Big Rock Urban! We also enjoyed the last Tri-Cities Cask Festival of 2016, providing free transit fare passes for anyone who needed a safe ride home!
On Sunday, November 27 we hosted the first annual Vancouver Craft Cider Festival at the Beaumont Studios. A HUGE thank you to all of the cideries, volunteers and amazing attendees that made the festival a roaring success. Special thanks to videographer Darren Hull and photographer Shirley Ho who captured the day for us! We'll be ready to share some of their work soon. Miss out on the festival? You can try out some of the fantastic ciders featured at the event at The Orchard & The Sea, Thursday-Saturday, 6-11pm at 55 Powell Street.
We ended off November with our Members Appreciation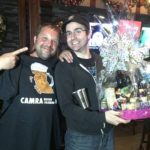 night at the John B Pub! We are so happy to have the support of our amazing members! We had an amazing turn out with members new and old joining us for the event. Congratulations to our new member George, who won the new member gift basket that night. We're looking forward to seeing all of you at some of our upcoming events!
2016 may soon be coming to a close but we still have plenty of beer to enjoy!
Think you're a beer expert? Prove it at CAMRA Vancouver's Beer Trivia hosted by IQ 2000. Join us on Wednesday, November 14 at 12 Kings Pub, trivia starts at 7pm. Put your beer smarts to the test and win fantastic prizes! Trivia is free, please RSVP for the event here.
Barleywines, quads, and Russian imperial stouts oh my! We're rounding off 2016 in a big way with our BIG Beers and Strong Ales education class taught by our Vice President (and head brewer at Bridge Brewing Company)! These beasts are big on flavour, cost, and alcohol. Prepare to learn how these leviathans are made and how to get the most out of them. A quick foray into cellaring and aging beer seems appropriate as well. Taking transit is highly recommended. Tickets are available on our Eventbrite page here.
We're planning some exciting events for 2017! Stay tuned to our newsletter to get the latest details on all of our event happenings.
Cheers!
Ashleigh Begg
Communications Director
CAMRA BC – Vancouver Branch