To start off, I need to talk a little bit about the festival. It was intimate, it was festive, it was everything you want a beer festival to be. I saw booths at the festival that included mainstays like Parallel 49 Brewing as well as lesser known to me like 9 Mile Brewing from Saskatoon. (Which, might I add, had an Oatmeal Stout that was out of this world!) I also got the chance to try out beers from Gladstone Brewing, Cumberland Brewing, and others that we don't see in the Greater Vancouver Area very much.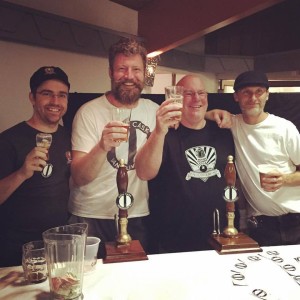 Talking to Paddy Treavor, President of CAMRA BC's Powell River Branch, he tells me that the festival attended by about 200 people wouldn't get much bigger than that. He told me that, out there, this is what the community wants. They want an intimate setting, with a beautiful view, where they can enjoy good beer, good food and have a great time. This festival was unlike any other beer festival I have attended in Vancouver and I hope that some of you get the chance to attend this incredible event sometime in the future.
The day following the festival, we held the CAMRA BC Summit, against a cinematic pacific coast backdrop. The meeting was arduous, intense and the agenda packed but we got a lot of important work done! Here are a few highlights of what was discussed at the Summit.
First, we decided the location of the next CAMRA BC AGM. It will be held in Victoria in late January. A formal notice will be sent out in the next month or so, so keep your eyes peeled. The AGM is crucial for members who wish to air any grievances or gain a better understanding of the internal proceedings of our society. While discussing the AGM, we took time to discuss our intentions as it pertained to our own Executive roles in the coming year. Many of our Executives hope to run again for another term, whereas others may take a step back. One thing that was clear in our meeting, however, is we would love to see more competition on the BC board for elected roles! Are you a natural leader – why not run for BC President? If you're a stickler for procedure, order and are incredibly detail oriented – the role of BC Secretary may appeal to you! No experience in these roles is needed!
Following along the lines of the AGM we had a lengthy discussion about the CAMRA BC bylaws and how they were long overdue for an overhaul. We voted to begin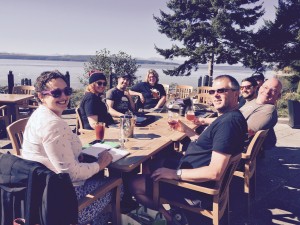 the lengthy (but necessary) process of reworking the CAMRA BC bylaws to better reflect a society in a modern, digital era. This will take a fair bit of work and will be spearheaded by CAMRA BC President, Ari Dressler. We voted to enlisted a bit of legal counsel to aid us in this process to be sure that it is being done well and that it won't have to be redone for a very long time!
On the advocate front, I brought forward the concerns of many of the Vancouver Members that told me that they felt as though CAMRA BC simply wasn't doing enough in terms of advocacy campaigns. At the summit, we voted on the creation of an appointed, non-voting position on the board that would be focused solely on advocacy work. This person would be working with branches on provincial and local advocacy campaigns to ensure that our collective consumer voices are heard. This vote passed unanimously, and I am very pleased to say so! I look forward to seeing what this role will bring to the table, and I certainly look forward to working with them!
Speaking of non-voting roles on the BC Board, we've had a lot of trouble maintaining someone in the Communications Position on the provincial level. As this role requires a lot of social media savvy as well as an ability to craft press releases and work with the media, we voted to begin the work of offering this role out to students at a local technology college as part of an internship for course credit. This would allow us to give opportunity to young members of the community, and allow us to have consistency and accountability in the role. As a social media fanatic myself, I am very thrilled about this and am very curious to see what will happen when this program rolls out.
The last highlight for me came in the form of a presentation I made about the new membership database the CAMRA Vancouver team is going to be rolling out in the coming months. While this change will be nearly imperceivable to the vast majority of our members, it symbolizes a monumental infrastructural change to our back end membership system. I am over the moon that the CAMRA BC board was as impressed by this system as they were because if all goes well, it may finally allow us to utilize it as a universal database to properly categorize CAMRA BC's membership information. This system (along with our amazing new website and new branding) was implemented by Ashleigh Begg, CAMRA Vancouver's Webmaster and digital Guru Extraordinaire! There is seemingly nothing this woman can't do from a digital media standpoint and I know I speak for my entire CAMRA Vancouver Executive Team when I say: "Thank you, Ashleigh, for all the hours of work you have invested in this Community! It is so important for our members to know how hard you work, so thank you!"
Of course, more was discussed, voted on, and decided during the Summit, but I would never be able to touch on it all in one article. The minutes from our meeting should be available on the CAMRA BC website shortly. Once they are we will be sure to update you so you can read through them yourselves! As always, if you have any questions, worries, concerns, please reach out to me – via email or tweet at me @davidjp87.
Cheers,
David Perry
President, CAMRA BC – Vancouver Branch