The inaugural BC Hop Fest happened Saturday, October 3rd.  Presented by the BC Craft Brewers Guild and BC Hop Company Ltd. it billed itself as the first Fresh Beer Festival in BC.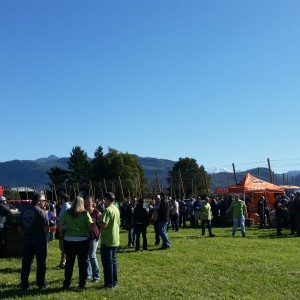 Located on the beautiful Sumas Prairie (google the location, I know I had to, but trust me it's breathtaking) on a real hop farm!  It was the perfect venue to try fresh hop beers from across BC.  More than just your favourite wet hopped IPA the festival allowed to compare and contrast what fresh hops taste like in many different styles from the over 20 vendors
Many booths were complete with a "Made with hops from this farm" sign as Kinloch Farm grew three different types this past year.  This was the first year this family farm has operated as a hop grower.  The Sumas Prairie was a hop growing zone for many years and the BC Hop Company is now hoping and helping family farms convert back to being hop growers. The festival also involved an interactive tour of these hop fields and the giant hop harvester purchased this last year.  There was also a hop exhibit set up showing the hop history of the region.

With craft beer and brewing exploding everywhere in BC it is fantastic to see the Fraser Valley be able to showcase their unique tie between breweries and ingredient that goes into making craft beer in BC so fantastic.
Renata Duquemin
Treasurer, CAMRA BC – Vancouver Branch
@ren_ata_