July was a busy month for CAMRA members: from Bingo, to Baseball, to a Brewery crawl in Port Moody, we did it all. We were also treated to a sneak peek at Faculty Brewing, and it's safe to say that it will be our new brewery hangout of choice. Our Vice President Kerry and Education Coordinator Kai brought us back to basics with Craft Beer 101 & 102. Thanks to everyone who came to these events and supported us!

August is sure to be a fun one as well: We're embracing the latest and greatest trend with our education classes this month and are bringing you Sour & Wild Ales and Yeast 101. There will be some delicious beers to sample at this one, guys!
The Vancouver Craft Brew Cruise is happening on August 19th and 20th, hope to see you there!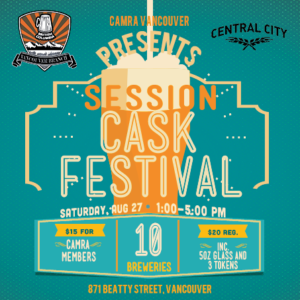 Most importantly, our annual Session Cask Festival is happening on August 27th at Central City on Beatty. We have some of Vancouver's finest breweries set up to pour their most delicious and sessionable beers, including Bridge, Dogwood, Real Cask, Faculty, Moody Ales, and many more!

Just as a head's up: Unfortunately, the North Shore Beer and Wine Festival has been canceled. We are working on some fun events for you North Vancouver folk in the near future to (hopefully) ease the pain!
Ksenia Dempster
Events Coordinator
CAMRA BC – Vancouver Branch