Looking to add a whole new dimension to your summer cooking? Crack your favourite brew to add body and flavour to some of your favourite dishes! Bringing in the bitterness from hops and sweetness from malt can help take your cooking to the next level.

Different beer styles will bring out different flavours, a good rule of thumb is using heavier beers in heavier foods. Stouts and porters are an excellent addition to rich comfort foods, while the carbonation in lagers helps to create extra light and crispy fried foods.If you think a certain beer style will work in a dish, it usually will!

I've tested out a few winning summer barbecue recipes you can use as a starting point for your own adventures in cooking with beer, check them out below!

The beers used in these recipes were:
Bridge Brewing "Bourbon Blood Orange Wheat Ale"

Burnside Brewing "Sweet Heat"

Doan's Craft Brewing Co. "Rye Stout"

Firehall Brewery "Holy Smoke Stout"

Hearthstone Brewing "Chocolate Milk Stout"

Old Abbey Ales "Coastal IPA"
Beer Salad
Beer…salad? Yes, it's completely possible to add beer to your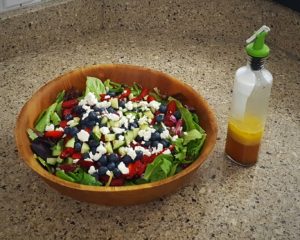 crisp summer salad! Citrusy IPAs, lambics or sour beers are a good way to add a tart kick to your veggies by using them in a salad dressing.  For this recipe, I used Old Abbey Ales "Coastal IPA". The orange zest and pepper flavour offset by the honey sweetness was the perfect base for an orange mustard vinaigrette! I paired it with an easy, breezy goat cheese, berry and arugula salad.  
INGREDIENTS
3 ounces beer (IPAs work best for this recipe)

1 tablespoon honey

1 tablespoon shallot (finely minced)

1 teaspoon grated orange zest

1 teaspoon Dijon mustard

4 tablespoons extra-virgin olive oil

Kosher salt and freshly ground pepper
INSTRUCTIONS
Whisk together the beer with the shallot, orange zest, honey and mustard.

Slowly add in oil to the mixture while whisking.

Add in salt and pepper to taste and you're ready to serve!
Cornbread

Cornbread is one of my absolute favourite summer bbq
sides and the yeast in beer helps give it a light texture with a tender crust! I tried out Burnside "Sweet Heat" for this one. It's a wheat ale with an addition of 200 lbs of Apricot puree, then dry-hopped with Jamaican Scotch Bonnet peppers, not necessarily a beer I would love sipping on, but it made for a perfectly sweet and spicy cornbread.
INGREDIENTS
1 ½ cups beer

2 cups flour

1 cup cornmeal

2 tablespoons sugar

¾ teaspoon baking powder
INSTRUCTIONS
Preheat your oven to 350 degrees Fahrenheit

Slowly mix together all of the ingredients in a large bowl until thoroughly combined. Be careful not to mix too vigourously and make the foamy.

Pour all of the ingredients into a greased loaf pan and bake for about 40 minutes.
Mac n' Cheese
It's no secret that beer and cheese are best friends and pair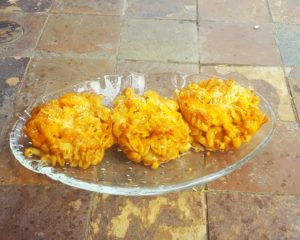 incredibly well together. This is one of the beer foods where as long as you're not using a super hoppy beer, you can't really go too wrong in your beer choice. Keep in mind, the colour of your will affect the look of your dish though.  I went with Firehall Brewer "Holy Smoke Stout" and it made for an extremely rich, decadent and delicious mac n' cheese!
INGREDIENTS
1 ½ cups macaroni

½ cup dark beer of your choice

2 tablespoons butter

1 tablespoon olive oil

1 ½ teaspoons salt

1 shallot (finely minced)

3 tablespoons all-purpose flour

2 cups whole milk

8 oz sharp cheddar cheese (shredded)

2 tsp ground mustard

1 teaspoon garlic powder

½ teaspoon freshly ground black pepper
INSTRUCTIONS
Preheat oven to 350 degrees.

Fill a large pot with about two liters of water and 1 teaspoon salt. Bring to a full boil over medium-high heat.

Add macaroni and boil for about 11 minutes or until pasta reaches desired tenderness. Drain.

Melt butter and olive oil in a saucepan over medium heat. Sauté the shallots for about 2 minutes (or until they begin to turn transparent). Add flour to the pan, stirring constantly until a smooth paste forms. Gradually add milk while continuing to stir and continue cooking until mixture is thick and bubbly.

Add the cheese and stir until completely melted. Remove from heat and add beer, mustard, garlic powder, pepper and remaining salt. Stir well.

Grease a square glass pan (about 9"x9" should work).

In the large pot, combine macaroni and cheese sauce and stir. Pour into baking dish, cover with foil and place into preheated oven and bake for 15 minutes. After 15 minutes, remove foil and continue cooking, uncovered for another 15 minutes.

Remove from the oven and allow to cool for a few minutes before serving.
"Uncle Iain's Bone Tickler Beer and Bourbon Ribs"

Did you know the enzymes in beer help break down meat
fibers, making it more more tender while adding flavour? As a vegetarian I sure didn't…so I outsourced this recipe to a meat-loving master of the grill. Again, this is one of those foods where you can use a wide range of different beer styles with successful results, so get creative! Since a bold, smoky flavour was the aim for the mac n' cheese, we decided to keep it sweet for the ribs. Using Bridge Brewing "Bourbon Blood Orange Wheat Ale" as a marinade and bbq sauce base, these ribs were a definite crowd-pleaser among the BeerBQ attendees! This recipe takes quite a few hours to make, so start first thing in the morning or the night before!

FYI: This recipe can also be "veggie-fied". Switch out the ribs for tofu, keep it in the marinade for a few hours in the fridge and grill it up on the bbq for a delicious meat-free option at your next barbecue!

INGREDIENTS
500ml beer

3 cups BBQ sauce

2.5 cups Bourbon (We used Jim Beam)

Half Rack of Ribs
INSTRUCTIONS
C

ut and section your ribs into workable portions, about four bones each piece.

First render out the fat of the ribs, by covering the uncooked ribs in water and bringing to a boil (adding in about two cups of bourbon in this process). Once boiling, scoop fat off of the top of the pot as it renders down your ribs.

Do this for about 2 hours. Pour fat either into compost or proper waste receptacle.

Once the ribs are finished rendering, remove from water and then place on a cooling rack.

Now make the sauce. Check out our latest Homebrew Happenings here for a great beer BBQ sauce recipe, or if you're short on time you can use your favourite pre-made sauce.

In a sauce pan, combine BBQ sauce, the 500ml of beer and the rest of your bourbon. Onced combined, bring to a low simmer for about 20-30 minutes. The idea is to just combine the flavours and boil off some of the alcohol while thickening it, if your sauce starts to clump you've cooked it too long!

Next, after both the ribs and the sauce have cooled, combine in a ziplock bag, and refrigerate for 4-5 hours. Allowing flavours to combine and co-mingle.

Finally, grill your ribs! About 5 minutes each side, while brushing with leftover bbq sauce. You may also enjoy the other half of your beer whilst you grill.
Beer-amisu

"Tiramisu" is Italian for "pick-me-up" and this easy, delicious
spin on the dessert does just that! It strays pretty far from the original recipe, but is seriously easy to make and a cooling summer treat. I had two stouts on hand, so tried it out with both Hearthstone Brewing "Chocolate Milk Stout" and Doan's Craft Brewing Company "Rye Stout". Those of you with a sweet tooth will love the Chocolate Milk Stout version, and if you're looking for a bolder, darker spin on the recipe the Rye Stout is the one for you. Pick up your favourite stout and give this one a shot!
INGREDIENTS (makes about 6 glasses)
½ cup beer (stouts are a great choice!)

1 cup mascarpone

3 tablespoons sugar

3 tablespoons whipping cream

10 ladyfingers

Cocoa powder or dark chocolate

¾ teaspoon baking powder
INSTRUCTIONS
Combine the mascarpone and sugar in a bowl.

In a stand mixer, whip the whipping cream for about 2-3 minutes, until stiff peaks begin to form. Mix the whipped cream with the mascarpone and sugar.

Pour the beer into a shallow bowl. Dip the ladyfingers into the beer, flipping them over to wet both sides. Careful not to get them too wet or they'll fall apart!

Place the ladyfingers in a tight single layer on the bottom of your cup or serving dish. You can break them up into pieces if needed.

Add in the mascarpone and whipped cream mixture.

Dust the with cocoa powder or shaved dark chocolate.

Repeat steps 5 & 6 until you reach the top of your cup.

Cover with saran wrap and refrigerate for about 6 hours before serving.


Have a recipe you're dying to share? Did you have any great success (or epic fails) with one of the above recipes? Comment below or shoot me an email, I'd love to hear from you!

Cheers & Bon Appétit!

Ashleigh Begg
Communications Director
CAMRA BC – Vancouver Branch