One of the most exciting and easy ways to explore new breweries is with a tour company. They do all the logistics for you and drive all day, so all you have to do is show up and have a great time! Vine&hops Beer and Wine Tours is one of the tour companies running in Vancouver that brings out the best in local breweries.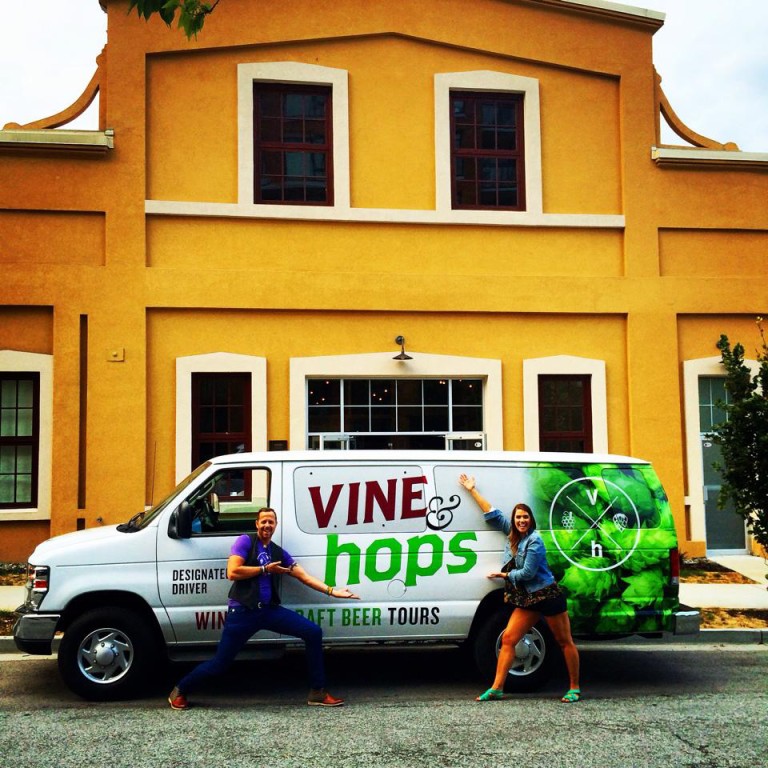 Opened in 2014, Co-owner and occasional operator, Jayden Grundy cites the craft beer & wine revolution here in BC as a big motivation into starting the business. "It's been pretty amazing to see the quality of beer, wine and spirits really evolve over a short period of time. We saw the the passion and growth and being big fans of BC Craft Beer & Wine saw an opportunity to help showcase what we all appreciate and enjoy so much too; and with people from around the world. Being able to support locally is a huge attribute as well as with the evolution of jobs, supporting farmers and the many other businesses that comes along with the growth. Pretty damn cool if you ask me! May I add that we also loooove people and meeting people from around the world!"
Over the years, they've run tours from birthdays to bachelor(ettes), corporate, walking tours, and more! Any group that's ready and willing to experience the local scene is a group that needs to contact Vine&hops. The best part is you can mix it up and Vine&hops will help you curate according to time, number of guests, price point, traffic, etc. In fact, just this past weekend, CAMRA Vancouver ran our own group tour to the breweries out in Abbotsford! With nearly 30cm on the ground that day, it was an adventure for sure. We are so grateful to all the breweries who braved the weather for us, and to the amazing Jayden for driving through it all! This spring you can look for Vine&hops to be getting into more public tours as well.
It was a testament to the amazing craft beer community that the breweries made sure to be available to us on Saturday, despite the large amount of snow. Letting guests try the beers and learn more about the brewing process is just one way that breweries can support tour groups like Vine&hops. Informing their customers about the opportunities, safety, and fun that they as a tour operator provide. Jayden adds "A "come see us button" on their website with a V&h link wouldn't hurt!" What matters the most is that little extra special something. "On our tours, you'll almost always meet a brewer, owner or staff member at each establishment that will want to pop their head in, answer questions, share a brew and talk shop!"
Can't wait to book your own tour for an upcoming celebration? Check out their website for all the information. Or perhaps you're thinking, 'I love beer, I love people, and I love sharing this great beer world with others. How can I get more involved?' Vine&hops is looking for a casual driver/tour leader for the spring!  According to Jayden, "A good driver/ leader is someone who can take the bull by the horns, set the tempo, be relaxed but attentive, and know how to show our guests a good time! Decent Beer & Wine knowledge is key as well as being able to adapt to the plethora of different partners we visit and keeping those relationships tight is really important. On paper they also need to hold a class 4 license and be comfortable driving a 15 passenger van with a lot of potential distractions." So drop him a line if that's something that sounds right up your alley!